Simple dosing with DESCOVY FOR PrEP®1-3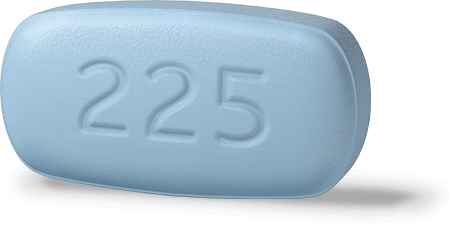 DESCOVY®
(FTC/TAF)
(emtricitabine 200 mg/tenofovir
alafenamide 25 mg) tablets
Not actual size.
Actual size is 13 mm W x 6 mm H
x 4 mm D.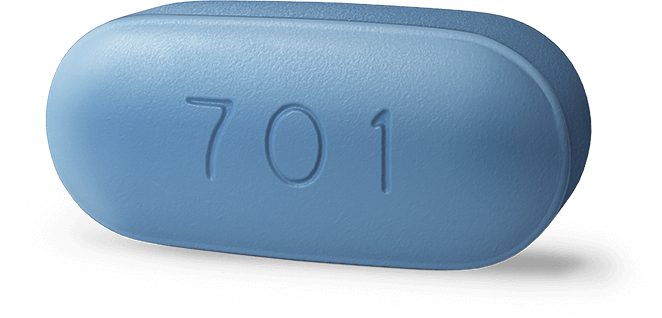 TRUVADA®
(FTC/TDF)
(emtricitabine 200 mg/tenofovir
disoproxil fumarate 300 mg) tablets
Not actual size.
Actual size is 19 mm W x 9 mm H
x 7 mm D.
One pill
Once daily
No food requirements
DESCOVY tablets are dispensed in a sealed Gilead-branded bottle or DESCOVY® DayTracker™ pack. Authentic DESCOVY tablets are blue and rectangular-shaped with "GSI" imprinted on one side and "225" on the other side.
Please see full Prescribing Information for TRUVADA, including BOXED WARNING.
The DESCOVY blue pill is the smallest pill for PrEP.
Screening and administration of DESCOVY FOR PrEP are compatible with telehealth1,4-7
At-home or in-office screening
Routine lab monitoring can be completed with in-office or at-home tests, which can be found at local pharmacies or online
The CDC recommends in-office HIV screening; if not feasible, at-home, saliva-based rapid tests and mail-in blood tests can be considered

If at-home tests are positive, an in-office confirmatory test is required
Discreet at-home delivery
The CDC recommends prescribing up to a 90-day supply of PrEP medication for appropriate individuals at risk of HIV
The CDC encourages appropriate individuals at risk of COVID-19 to use alternate methods for accessing their medication, like at-home delivery
Daily dosing from anywhere
DESCOVY FOR PrEP is taken once daily, with or without food, and appropriate individuals can take it anywhere, including at home or on the go
DESCOVY DAYTRACKER™ PACK
CDC=Centers for Disease Control and Prevention; GSI=Gilead Sciences, Inc.